ZenMate is a Germany-based virtual private network (VPN) service. It is one of the few VPNs available today that caters to non-English speaking users. The product is fully customizable to show text in a variety of languages, including German, Korean, Russian, Spanish, Turkish, and of course, English. In addition to the software solution being available in different languages, the ZenMate website offers the same variety of languages as well.
ZenMate VPN is designed for practicality and ease-of-use, especially for non-technical users who want to avoid all the complex procedures when setting up a VPN. The service is tailored for the type of users who want an easy and effective way to protect their online privacy without having to deal with IT terminology and catch up on how online networks actually work.
The VPN service offers a basic and easier approach to setting up a secure and reliable VPN, as is immediately evident when you visit ZenMates official website. The terms and the language they use to describe the service, its features, and tools don't require any technical knowledge that only IT professionals would normally understand.
There are no complex feature lists or perplexing terminologies, just a quick and simple explanation of the technology behind virtual private networks, a few examples, and the benefits one can expect from the VPN service.
ZenMate Functions
ZenMate offers internet access that is fast and anonymous, without any geographical restrictions. The system effectively prevents others from tracking the user's online activities—this includes their internet service provider (ISP), advertisers, and even government agencies. The ZenMate VPN service encrypts all traffic and essentially hides the internet protocol (IP) address, resulting in robust security, enhanced privacy, and complete anonymity.
ZenMate VPN is a useful service for users who want to avoid geo-based content restrictions and to users who travel frequently abroad. Through the VPN service, users are able to access different social media sites, video streaming platforms and other online services wherever they are. ZenMate has over 30 server locations distributed across America, Asia, Australia, and European countries, enabling users to simply choose the server closest to their current location.
The VPN service is available as a mobile application, a desktop client, and a browser extension. Some of the devices supported by ZenMate include iOS and Android mobile devices, Firefox, Opera and Google Chrome web browsers, Microsoft Windows and Mac OS X operating systems, and other browsers based on the Chromium Open-Source Browser Project. The system also supports DrayTek and a bunch of other routers.
When registering with ZenMate, the whole process is straightforward. The VPN service is tailored towards simplicity and ease-of-use. Interested parties can use ZenMates limited service free of charge. Alternatively, they can opt for the premium service to get access to the entire solution, including its many different features and capabilities.
Whether or not you're using ZenMate VPN for free, all you have to do to start using the service is to download the extension. Downloading and installing the client, the browser extension, or the mobile app is quick and easy. You simply have to follow the guide provided and you should start enjoying the service in no time.
Regardless of what type of device you're using, a laptop computer, a smartphone, or a tablet, ZenMates layout and design is simple and easy to understand, especially when you're trying to navigate through the system. The fonts are large enough, the notifications are clear and noticeable, and the features of the service are readily accessible to users, regardless of their expertise or knowledge about virtual private networks.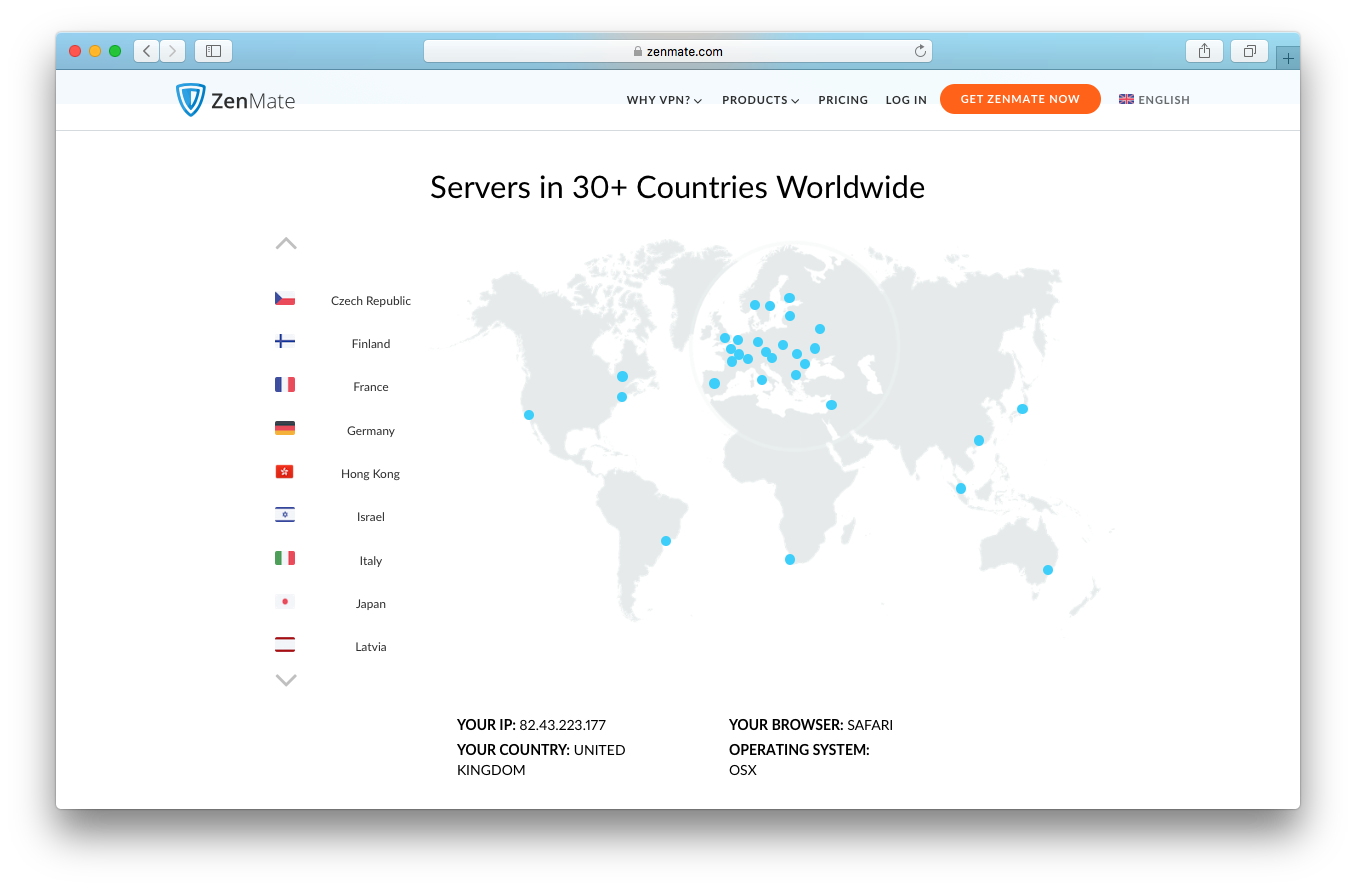 ZenMate Benefits
As mentioned above, one of the key advantages of ZenMate VPN service is that it supports a wide range of devices, operating systems, and browsers. Whether you're a Mac user, a Windows user, whether you're using an Android or iOS mobile device, the ZenMate VPN service is just a quick download and installation away, you can start browsing and streaming with privacy and anonymity.
ZenMate boasts of exclusive connections with its extensive network of servers in different locations across the globe, resulting in high-speed service on top of the security and privacy the VPN solution has to offer. Even though ZenMate may lack some of the more advanced features available in other VPN service providers, what it lacks makes up for simplicity and ease-of-use. The platform is easy to set up and it already comes with the fundamentals one would expect from a VPN service at an affordable price.
Another benefit you can expect from ZenMate is that it does not create any logs of user activity, as one would imagine from any VPN service. The system keeps advertisers off your trail and it effectively maintains the user's anonymity, preventing outside forces from identifying them personally. Not even your internet service provider will be able to track your activities online.
ZenMates user interface (UI) is quite simple. An extensive selection of locations is readily available, which you can filter manually by simply entering the country you're currently in. The system will then connect you to the server nearest you. Again, because ZenMate is primarily designed for less technologically inclined users, there are no technical specs of the connection available to minimize possible confusion and to keep things as simple as possible.
ZenMate also offers decent customer support service, even though they do not offer live chat customer support. The service provider does, however, provide email support and an extensive knowledge base for users to browse through whenever they encounter basic issues and concerns with the VPN service.
Some of the additional features available with ZenMate include unlimited data usage, Layer 2 Tunneling Protocol (L2TP), network address translation (NAT) firewall, access to 30 servers across 29 countries, allowance of five simultaneous connections, default server naming for each website, malware blocker, tracking blocker, and many more. Some of the aforementioned features are available only to premium account users.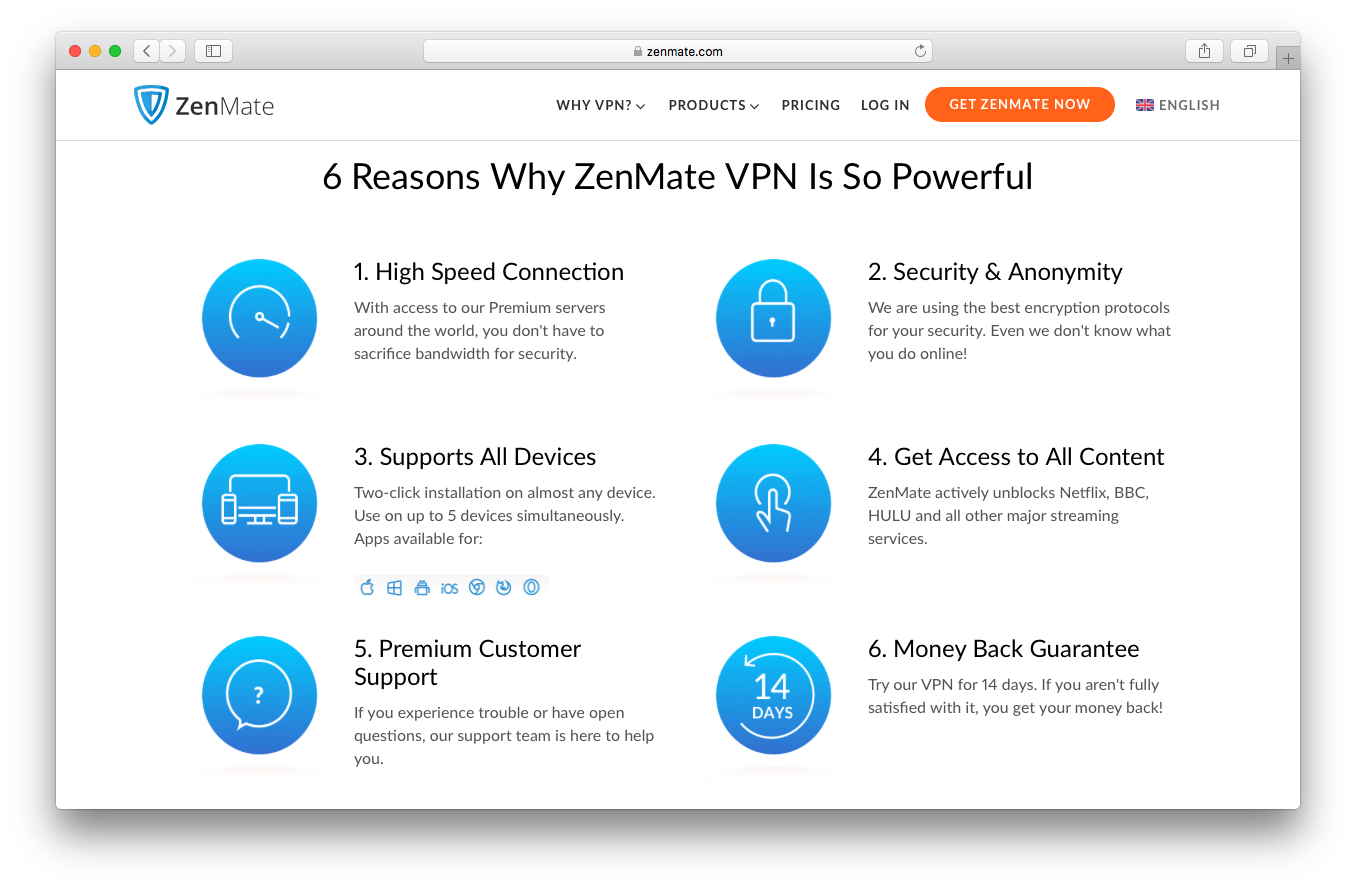 ZenMate Pricing
There are three pricing plans offered by ZenMate. You can choose from the monthly billing option, the 6-month billing plan, and the annual billing package, which is considered the best option for those looking for the ideal plan.
If you choose the monthly plan, you will be billed $8.99 per month. The second option will require you to pay $44.99 every six months, while the annual plan is worth $59.99 per year. ZenMate offers a 14 days money-back guarantee for all subscription plans.
The standard inclusions for the packages are unlimited bandwidth, unrestricted speeds, 99.9% uptime, zero bandwidth throttling, 300 servers in 30 locations all over the world and 3000+ shared IPs, zero traffic logging, unlimited switching of server, 256-bit AES encryption, malware blocking and tracking, anonymous torrenting, first-rate customer support, unlimited P2P traffic, user-friendly apps for a variety of devices, and ZenMate VPN usage for up to five devices.
With the variety of options ZenMate offers, choosing the most suitable pricing package for you won't be a problem.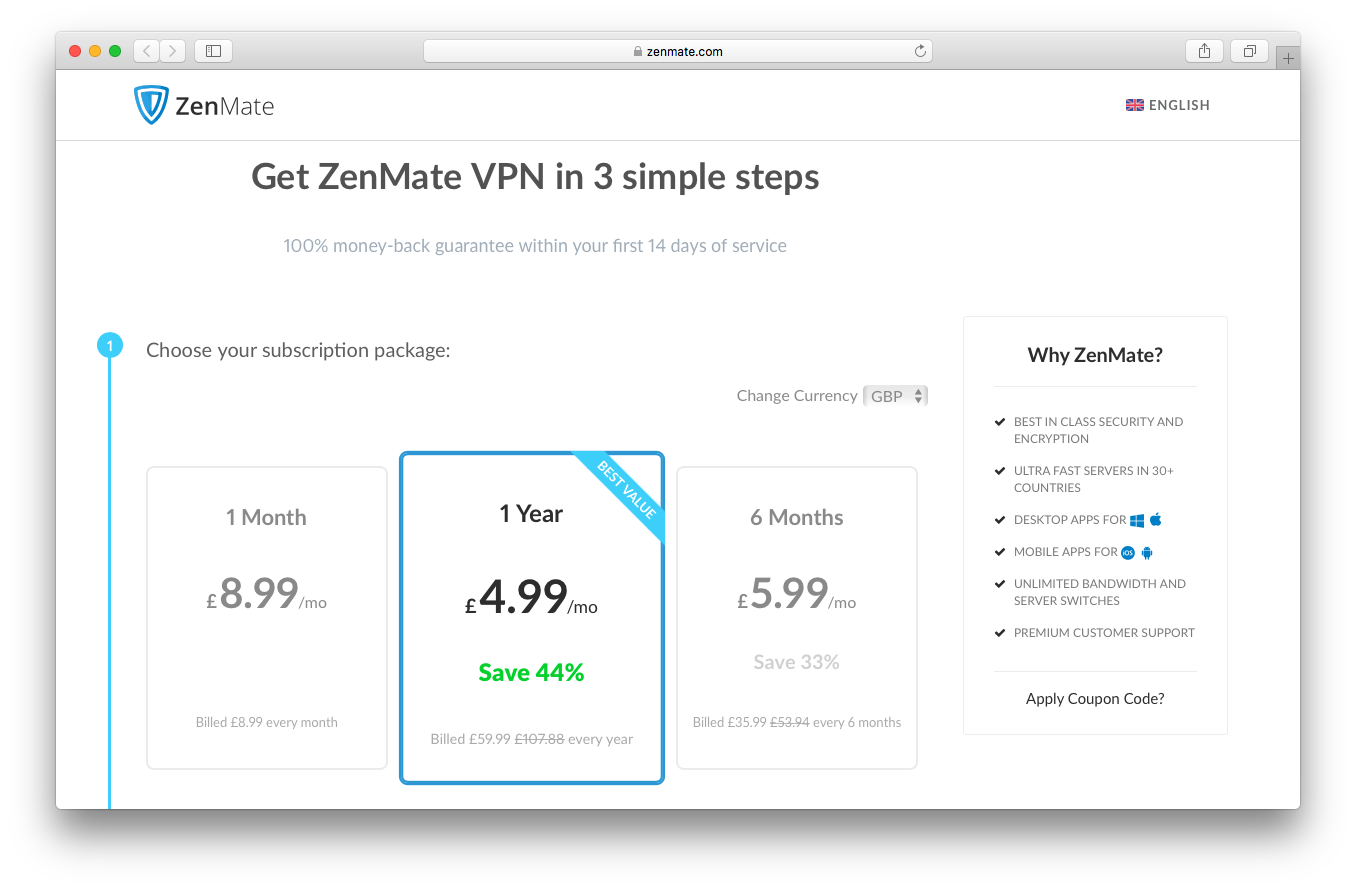 Conclusion
ZenMates biggest advantage is its low pricing plans. Aside from this, users—especially beginners—will also like its simple set up process. Another plus factor is its design features, which is a major issue for some users, especially those who want to get the best out of their investments.
If you are interested in finding out whether this is the best service for you, check and try the free version first before deciding to get the paid plan.