Summary of Trends
This is an excerpt of Crozdesk's SaaS and Cloud Startup Report 2018. Further excerpts are available on SaaS and Cloud Market Predictions and the Top Startup Cities Ranking 2018.
As horizontal SaaS markets are getting more competitive, 2018 is expected to lead to a further increase in vertical and hybrid SaaS startups. While vertical solutions already make up the majority of solutions this is bound to increase further due to more untapped opportunities as compared to the horizonal SaaS space.
2018 will show a further increase in demand for end-to-end system integrations, fueled by developments in the Integration Platform-as-a-Service space and higher customer expectations.
Furthermore, established SaaS category leaders are increasingly expanding their model to incorporate a PaaS approach in a bottom-up approach as compared to the top-down developments by IaaS providers in recent years.
With overall confidence in public cloud security on the rise, private cloud environments are becoming less popular. While hybrid cloud adoption is decreasing as well it is still the preferred cloud model of security sensitive enterprise and mid-market businesses.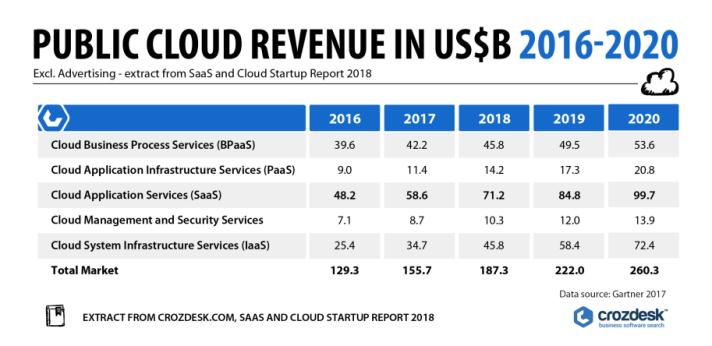 ---
Vertical vs Horizontal SaaS
The SaaS market has reached new maturity levels in the US, limiting the new-market growth opportunities for "horizontal" SaaS solutions. This has led to a major trend of diversification into vertical markets, addressing key business issues for particular verticals and establishing new growth opportunities.
One size-fits-all software is starting to give way for more modular verticalized approaches, and with SMEs becoming the driving force for SaaS growth in 2018, SaaS providers are increasingly focusing on niche industries and markets. When it comes to mission-critical functionality, customers demand a deeper expertise in their field - so single-industry soutions often lead to greater market success. While vertical SaaS companies trade with a narrower customer base and occupy a smaller market space, they have a product-based competitive advantage within their area of focus.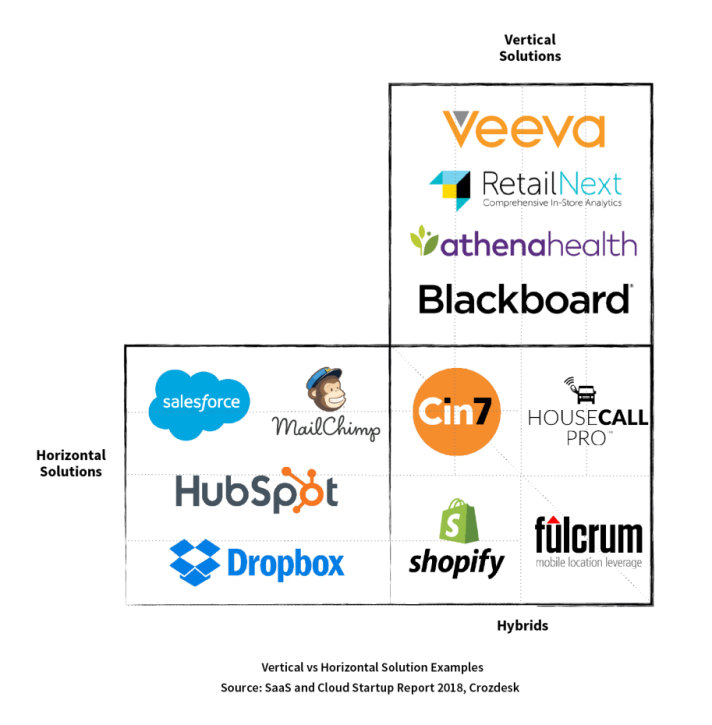 Horizontal SaaS focuses on a specific software category (HR, marketing, sales etc) and have wide market reach. This generally requires higher marketing and sales budgets to gain significant market share and attract new customers. As the largely industry-agnostic horizontal SaaS environment has matured, many segments are now dominated by established players creating significant barriers to entry. The focus here has changed from customer acquisition to increasing customer value and retention. However, while vertical SaaS solutions already make up the majority of SaaS vendors, a wide range of opportunities for process improvements and disruption across a great many industries still remain.
Horizontal Software Solutions
Horizontal SaaS solution funding and growth is starting to slow, as investors shift towards backing vertical solutions and unbundled software aimed at disrupting traditional industry offerings. Most large horizontals have established market leaders with significant market share by now, which creates lower growth prospects for new entrants and less funding opportunities.
Vertical solutions, while generally less well known, make up the majorty of SaaS solutions on the market. With horizontal SaaS segments getting more and more competitive we expect a greater shift towards vertical and hybrid solutions by new SaaS entrants in 2018.
Vertical Software Solutions
A clear trend has emerged in recent years aimed at replacing horizontal SaaS solutions with more customized solutions geared at specific industries from Healthcare to Retail. Veeva, for instance, has been very successful in tailoring its CRM and data management solutions to the pharmaceutical and life science industries exclusively. Crozdesk is seeing a large number of new entrants aiming to replicate this model across a diverse set of horizontal functions and industries.
Horizontal / Vertical Hybrids
While less common, an increased number of vendors tailor their largely horizontal solutions to a small number of specific industries. This can be achieved either purely through marketing, with custom landing pages and sales messages geared to individual industry segments, or by customising the underlying solution technology to better cater towards an industry's core pain points and workflows.
We expect a further shift towards 'verticalization' of the SaaS approach in 2018 and beyond to provide better off-the-shelf and modular cloud services, rivaling horizontal category leaders in their largest and most profitable industry segments.
---
Mobile Stategies
While most B2B SaaS applications are commonly used on desktop computers, customers are increasingly demanding access to the same services while on-the-go.
'Mobile-friendly' as a product strategy prioritizes and often equates the importance of mobile experience with that on desktop computers. Mobile devices are entrenched in the workflow of businesses with non-stationary workforces. Additionally, 43% of business owners now frequently use mobile devices as an avenue for managing operations remotely. However, demand for the ability to manage operations and collaborate on projects while out of office, is not yet universal.
We talked to 25 SaaS vendors across a wide range of different fields to get their opinion on mobile-friendly SaaS. Whether it has affected their business model, or whether they have adopted the strategy within their own company, greatly varied by segment.
The majority of interviewees operating outside of field-service industries, recognized the benefits of mobile-friendly SaaS and aimed to improve their mobile experience, but felt that their industries were rather slow to adapt. Demand from their customer base was not stong enough to warrant making mobile-optimization a priority and issues surrounding security often prevented this.
Fraud detection provider Pondera stated that mobile-friendly initiatives had been slow to move within their niche due to the sensitive nature of the data they analyze.
Accelo CEO, Geoff McQueen, said "mobile first SaaS works fantastically for products with a clear and leading mobility use case" however, he saw this as only providing tangential value for Accelo and other enterprise software vendors, and sees shifting focus to mobile for non-location dependent services as inadvisable.
These sentiments were echoed by marketing automation company, Lead Liaison: "It is almost impossible to deliver a meaningful experience on mobile, especially for an enterprise application". Regarding marketing automation specifically, they believe that "a mobile device will always be an ancillary way of viewing and interacting with an enterprise application."
However, field-service and heavy use collaboration service providers have been increasing their investment in mobile optimization significantly. We spoke to Brian Saab from Unearth Labs - a construction management software vendor: "If your platform isn't mobile-friendly, it will likely significantly hinder its adoption given how many people use their mobile device for work. Mobile friendly design was even more important for us because mobile is king on construction sites. If we don't have an intuitive and simple mobile interface, no one in the field is going to adopt our software and we will be dead in the water."
Mobile optimization has become a necessity for some vertical SaaS vendors, but enterprise applications are still facing early stages of mobile maturity, as the costs of delivering a meaningful experience on mobile often outweigh their benefits.
---
Integrations
SaaS users are becoming increasingly demanding when it comes to flexible and seamless integrations of complementary software products, databases and information streams across a wide range of business functions. This trend that is fuelling Integration Platform-as-a-Service (iPaaS) also requires SaaS vendors to collaborate more and more on point-to-point integrations and expand their API offerings beyond providing isolated cloud silos.
Standardized protocols and language compatibility is becoming increasingly important. RESTful web services, WDSL and SOAP are used frequently to further interoperability and allow for diverse application triggers and data streams to enable users to tailor off-the-shelf SaaS offerings to their own unique requirements and business processes. It also increases value-add and cross-promotion opportunities to capture more value in enterprise and SME workflows.
Ease of on-boarding new solutions into the existing business arcitecture and infrastructure through flexible integrations is quickly becoming a core aspect businesses consider when evaluating SaaS products.
Complexity, security, concerns over decreasing stickiness and IP retention have slowed adoption of this across a range of fields - especially in the enterprise space.
Multi-Layered Security
Integrating disparate software, can run the risk of increasing vulnerabilities and allow for security protocols to be bypassed, which, in turn, increases the risk of unauthorized access to sensitive data. To combat this, SaaS vendors increasingly adopt multi-layered security processes, with high-end encryption protocols.
API Service Unbundling
A steadily rising number of startups have adopted the strategy of packaging their core services for access through APIs and suites of developer tools. As some SaaS industry categories are getting overcrowded with a great number of similar products, more and more startups are focusing on unbundling these features, to offer tailored, more flexible services geared towards developers and 'Citizen Integrators' within target customer organizations.
These are often complementary add-ons which aim to improve a missing feature or enhance an existing SaaS ecosystem through the use of integrative solutions.
Drag-and-Drop Standardization
To offer a maximum of flexibility to non-technical users more standardized integration ecosystems are bound to emerge in coming years following a hub-and-spoke integration approach. Standardised protocols and iPaaS networks hold the potential for users to create their own 'drag-and-drop'-type integrations between heterogeneous systems and could allow for ultimate control in creating bespoke business workflows on a much grander scale.
While this model, in the long-run, has the potential of replacing point-to-point integrations that tend to be time-consuming to build and often inflexible in their execution, market leaders in the space are yet to emerge.
Integration Software-as-a-Service (iSaaS)
iSaaS is a set of tools that allow users to design their own integration tasks and self-mange the process. 'Citizen Integrators' - meaning people who understand the business requirements and are generally tech-savvy, without necessarily being IT specialists - are the prime audience for iSaaS solutions. Companies such as Adeptia are driving this space forward with flexible components, allowing for simple Citizen Integration. While this model is a precursor to integration standardization as a substitute to point-to-point integration it has the potential to disrupt the Electronic Data Interchange (EDI) market and provides opportunity for increased standardization, availability and security of SaaS integrations.
---
From SaaS to PaaS
The global market for PaaS is projected to reach $10.6B in 2018.
SaaS is one of the key models of the cloud services economy giving business customers the means to steer away from legacy systems and traditional hardware requirements. As the SaaS industry matures, established vendors are frequently augmenting their approach to incorporate a Platform-as-a-Service (PaaS) model.
A prominent example of this is Salesforce. Their platform approach allowing developers to build their solutions on top of Salesforce services and infrastructure provides substantial positive externalities to their SaaS offering and increases overall stickiness, as well as providing diversification benefits. Many horizontal category leaders in SaaS are openly considering these add-on ecosystems.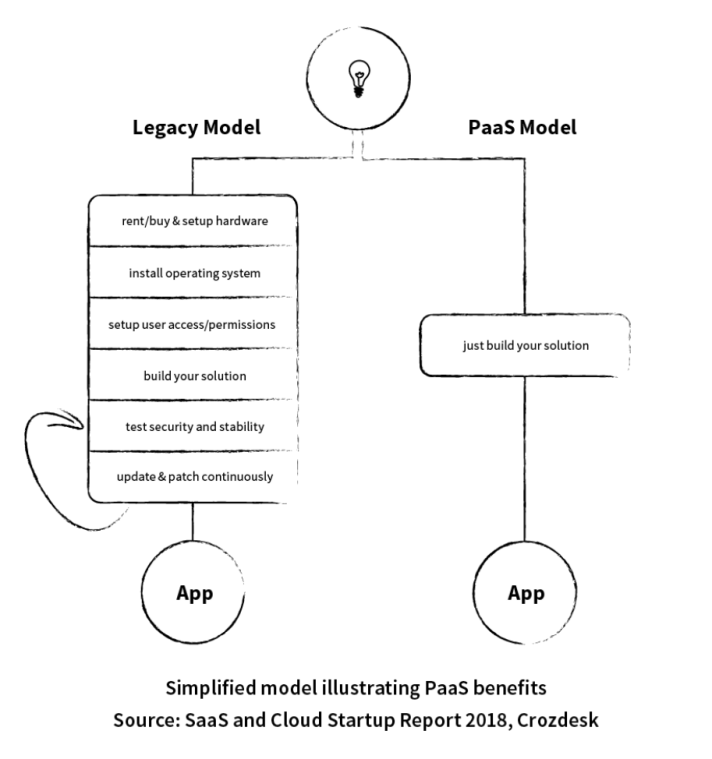 The overall PaaS market is largely dominated by Amazon Web Services, Microsoft, Google, IBM and Oracle. For Oracle PaaS is quickly becoming the primary mover of growth, even more so than its SaaS functions. Its PaaS and IaaS Q4 2017 revenue reached $497 million, an increase of 40% compared with Q4 2016.
While stand-alone PaaS companies are still few in number there is a clear indication that PaaS is due significant investment in 2018.
Vertical solutions, while generally less well known, make up the majorty of SaaS solutions on the market. With horizontal SaaS segments getting more and more competitive we expect a greater shift towards vertical and hybrid solutions by new SaaS entrants in 2018.
This is a result of rapidly increasing demand to shorten product development cycles and decrease ongoing maintenance requirements. This is further amplified by shortages in development talent across the western world and increasing costs associated with large development teams required to build and maintain cloud products built on custom infrastructure.
An additional driver of PaaS growth is the parallel growth of big data, fuelled by investment and innovation in Machine Learning and AI technologies. Big data services are forecasted to grow 39.5% annually on average until 2021.
PaaS will become a major aspect of the enterprise architect's arsenal to complement their big data strategies and custom project deployments. One model of PaaS set to rise in popularity due to the continued big data trend is Insight PaaS. Forrester defines Insight PaaS, as "An integrated set of data management, analytics, and insight application development and management components, offered as a platform the enterprise does not own or control." Insight PaaS makes it easier to manage complex data sets, update applications, upgrade technology and coordinate team member activities.
Furthermore Integration Platform-as-a-Service (iPaaS) will also be driving growth in 2018, as demand for seamless integration of data sources and diverse cloud applications is demanded by a large number of mid-market and SME customers.
---
Private, Public and Hybrid Cloud Environments
In 2017, the number of companies adopting public and hybrid cloud environments has increased significantly, while adoption of private cloud environments has stalled.
95% of respondents to the 2017 RightScale State of the Cloud survey have adopted a cloud environment, public cloud being the most popular model year-on-year with an 89% adoption rate among surveyed businesses in 2017.
Public cloud environment
Public cloud environments are provided by third-party multi-tenant service providers. Public cloud users can take advantage of dynamic scaling and cost-effective pay-as-you-go pricing models.
Private cloud environment
Private cloud refers to any environment operated internally, that offers self-service and on-demand resource allocation. While adoption is falling, it is still the environment of choice for security conscious businesses.
Hybrid cloud environment
A hybrid cloud environment involves weaving the private and public cloud into one cohesive and seamless experience. This enables businesses to benefit from the scalability and cost-effectiveness of the public cloud, whilst being able to host sensitive and mission-critical resources within their private cloud.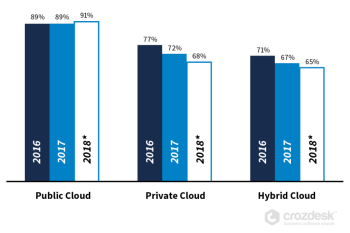 In 2018, we're expecting public cloud adoption to rise further. This will largely be due to cost decreases associated with public cloud infrastructure and increased availability of PaaS technologies geared towards data science processes and services for laggard enterprise and mid-market businesses.
Enterprises moving to the cloud typically start with a hybrid approach, splitting their IT budgets between on-premise / private cloud solutions and public cloud environments. In addition, 20% of enterprises are planning to use multiple public clouds in the near future - up from 16% in 2016. Despite being more difficult to implement effectively, hybrid cloud strategies will continue to represent the most popular enterprise cloud strategy in 2018.
This is largely due to many enterprises' unwillingness or inability to move to public cloud environments over continued security and compliance concerns. Those leading in new technology adoption have generally opted for hybrid cloud environments in the past in order to be able to segment data and services according to their sensitivity and overall importance for the organisation's primary business functions. Hybrid cloud strategies can be complex in their implementation however, and cost savings associated with public cloud environments are increasingly recognized for their bottom line benefits, despite looming security concerns. This is leading to an increased shift towards the public cloud within hybrid setups.
Pure private cloud environments are less and less popular, due to their high cost and operation requirements and will continue to play less of a role than hybrid and multi-cloud environments in 2018.
The reason for the increase in public cloud and decrease in private cloud usage is also due to improving enterprise confidence in the public cloud's ability to handle secure and sensitive data.
SMEs on the other hand have embraced the public cloud, giving them access to cost effective and reliable services, and infrastructure that was previously unaffordable. This 'grass-roots' movement has shifted focus and raised market awareness, which in turn, benefitted SaaS vendors by widening their potential market through new customer segments willing to look to the cloud to improve their business processes on a grander scale.
The veracity and number of challenges perceived by potential cloud adopters has declined. Whilst cloud security remains the number one perceived issue, this is now only seen as a challenge for 25% of businesses, sharing the top spot with "lack of resources/expertise" and "managing cloud spend".
Companies are still trying to work out the best cloud strategy for their business as they navigate the concept of multidimensional cloud services.
---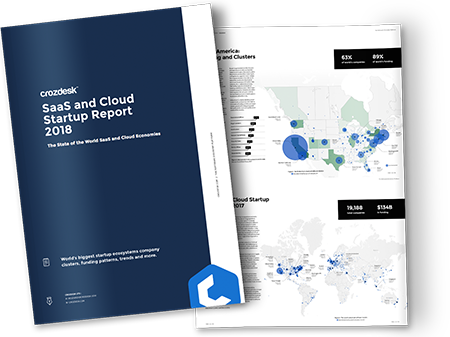 ---