This is an excerpt of Crozdesk's SaaS and Cloud Startup Report 2018. Further excerpts are available on the Top Startup Cities Ranking 2018 and SaaS and Cloud Trends.
The public cloud market is expected to grow by 20% and the Software-as-a- Service market by 22% in 2018.
SaaS investment has grown by around 4% in 2017. The categories attracting the most funding were Accounting & Finance and Business Intelligence / Analytics. This was largely due to continued growth in the FinTech space and new AI / Machine Learning applications in the Big Data and Data Science space.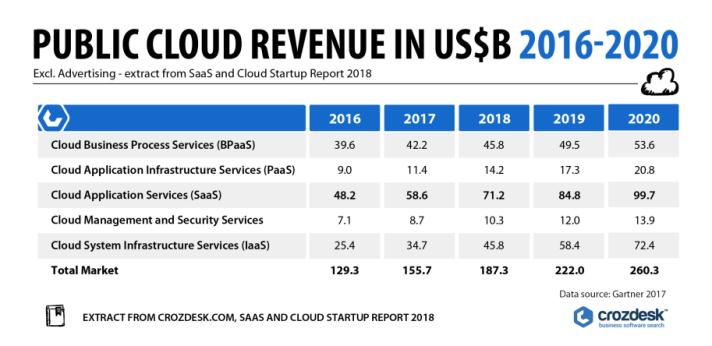 Cloud Market Value
Cloud IT market revenue (excl. advertising) is expected to increase from $129B in 2016 to $260B by the end of 2020. This represents a Compound Annual Growth Rate (CAGR) of 19%.
More than 90% of current customer demand for cloud services comes from replacing or upgrading existing applications and from new digital product innovation.
A Bain & Company study found that from 2012 to 2015, cloud demand accounted for 70% of IT market growth, and is expected to represent 60% of new growth through 2020.
The public cloud services market is set to grow substantially by 20.3% in 2018, with revenue rising to $187.3B. In 2017 the growth rate was 20.4%.
The SaaS market is projected to reach $71.2B in 2018, continuing to be the leading cloud segment in terms of revenue.
The Infrastructure-as-a-Service (IaaS) sector is to achieve the highest rate of growth out of all of the cloud services sectors, up 36.6% in 2017 to reach $34.7 billion.
The SaaS and IaaS sectors, in particular, were the primary drivers for cloud services growth throughout 2017. Both SaaS and IaaS have exceeded 2016 expectations, causing an upli in cloud revenue forecasts.
There is also a regional element to be taken into account when assessing the future of the cloud services market. The geographic analysis featured later in this report underscores the significant regional disparity of supply development across the world. However, with the US market approaching more saturated levels, many vendors are looking towards Europe and elsewhere for growth.
The Asia-Pacific region is forecasted to reach a CAGR of 32.1% until 2022. China will likely play a significant role in the IaaS market in particular, with forecasts anticipating higher demand in the coming years as digital services become more mainstream - despite China's cloud services market being several years behind its western counterparts.
SaaS Market Value
The global SaaS market has been predicted to expand at a CAGR of 19.9% between 2015 and 2022 and is forecasted to reach $71.2 billion in 2018 - a 21.5% increase from 2017.
Our most important learning in 2017 has been that our technology is more far-reaching and pervasive than we had anticipated. In a way, we had to expand our thinking, become comfortable speaking to much larger organizations, and develop solutions to much bigger problems. This year has definitely been a 'go big or go home' period in our company's growth. - Agreeable Research
However, the rapid growth in the horizontal SaaS market, seen in recent years, is likely to slow in 2018, as a result of established SaaS categories, such as customer relationship management (CRM) and human resource management (HRM), reaching maturity. With increasing demand for specialized industry solutions a shift towards further verticalization and fragmentation of SaaS is to be expected.
The SaaS sector has started to mature and stabilise, with customers becoming more reliant on SaaS products. In conjunction, vendors no longer need to dedicate substantial amounts of time to showcase the benefits of SaaS at a broader level. The clear advantage of freeing internal IT functions from substantial hardware requirements and legacy technology is becoming increasingly evident to the wider market. This is illustrated by the fact that out of the Fortune Global 50 companies, 48 have publicly announced new cloud adoption plans in 2017.
SaaS Funding by Segment Q1-Q3 2017
To gain a better understanding of the underlying SaaS and enterprise software investment patterns, Crozdesk analyzed year-to-date funding at the time this report was compiled (Q1 to Q3 2017), amounting to $50.25B in total. This represents a 4.1% increase over funding raised over the same period in 2016.
Accounting and Finance software companies received the most funding over this time period ($5,120M). In 2016 it was only the fourth highest funded sub-sector and has been driven by substantial growth of FinTech in 2017.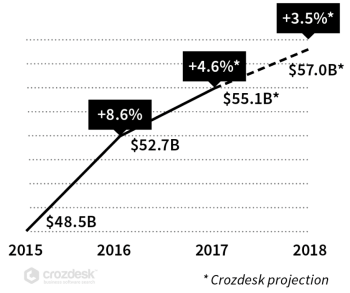 Business Intelligence, Analytics and Performance was the second highest-performing in terms of funding received ($3,320M). This was fueled by Machine Learning and AI technologies attracting substantial investment to the segment.
Third place went to Video related software, which received ($1,567M) in funding over the period, fueled by new technologies such as Augmented and Virtual Reality.
Traditional growth segments such as CRM and Project Management have dropped substantially due to lower growth opportunities. This can be traced to increased dominance exhibited by established market leaders.
Figure 1 shows all analyzed industry segments and the funding they received over the Q1 to Q3 2017 period.